Create Ayushman
Bharat Health
Account – ABHA number
ABHA Number (Health ID) is a 14-digit unique number with which you can digitally link all your health records. Create your ABHA Health ID card using an Aadhaar number in less than 30 seconds using NiftyHMS.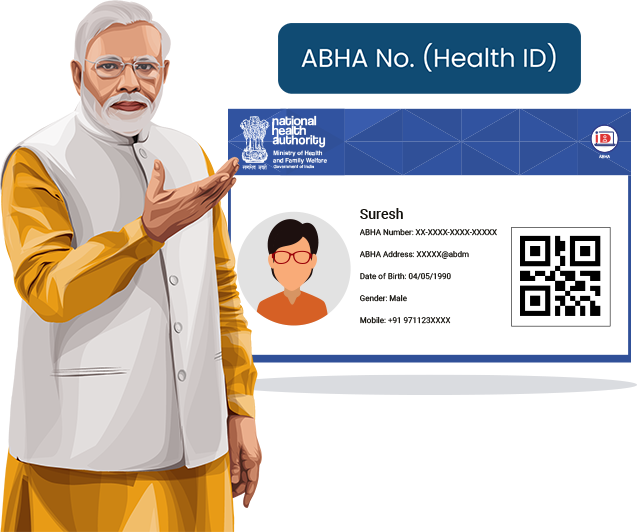 How to create ABHA or Health ID?
Individuals can create their ABHA in 3 easy steps:
1. Enter your 12 Digit Aadhaar card number and authenticate/verify with OTP
2. Enter Your Name, Gender and Date of Birth and Click on Continue
3. Create your PHR address, Select your state and district and Click on Continue
Your ABHA is created and stored in the NiftyHMS for your future reference.
The Benefits Of Creating ABHA number
CREATING ABHA IS THE FIRST STEP TOWARDS THE DIGITAL MISSION TO CREATE SAFER AND MORE EFFICIENT DIGITAL HEALTH RECORDS FOR YOU AND YOUR FAMILY.
1
Unique & Trustable Identity
Establish unique identity across different healthcare providers within the healthcare ecosystem
2
Unified Benefits
Link all healthcare benefits ranging from public health programmes to insurance schemes to your unique ABHA number
3
Hassle-free Access
Avoid long lines for registration in healthcare facilities across the country
4
Voluntary Opt-In
You can participate at your own free will and choose to create your ABHA number voluntarily
5
Easy PHR Sign Up
Seamless sign up for PHR (Personal Health Records) applications such as ABDM ABHA application for Health data sharing
6
Inclusive Access
Available to people with smartphones, tablets, and even no phones using assisted methods
Frequently Asked Questions